The Africa tour finished in Congo with a fitting conclusion on the themes of unity and cooperation that had been seen during the entire trip. Kasparov learned a great deal from his gracious hosts about their ambitious dreams for chess and education and he discussed the implementation of his chess in schools platform. There was also great interest in establishing a framework for tournament chess in order to develop FIDE-rated talents to train and inspire the next generation of kids. This type of far-reaching planning — as you should expect from chess players! — is what the Kasparov Chess Foundation does and what FIDE will do with Team Kasparov.
Kinshasa, Congo
"It is no longer a question of voting, this is an
ongoing African wave!" – Garry Kasparov
Kinshasa, Saturday, February 8, 2014, Kinshasa airport, 23:30.
Garry Kasparov's plane lands at Kinshasa, awaited by Guy Esungi Botetsi, President of the Congo Chess Federation, along with Larbi Houari who came especially from Morocco, upon the request of Mr. Esungi, to support him during the preparations of Garry's last African stop.
Also invited and arrived one hour and half earlier, Mr. Bartholomew Bongo, President of Gabon Chess Federation, remained inside the terminal to welcome GK.
Garry looks particularly in great shape, at least psychologically. "But you must be tired after this 15-day trip," L. Houari said to him. "Physically maybe, but I've received so many positive things that I do not feel tired at all! " G.K. answered back.
The Congolese stop was meant to be a reunion, because last July Garry quickly stayed in the south-eastern region of Katanga in Lubumbashi. On this occasion, he was able to implement a large project to create schools, funded entirely by private contributions from businessmen doing business with Congo. 10 schools over 4 years and a colossal budget of $ 300,000 for that region alone. In Marrakesh, in October 2013, we remember that Garry apologized to Guy Esungi for not being able to come to Kinshasa, the capital, to meet the Federation.
He then promised to be there on February 8…
Sunday, February 9. Day dedicated exclusively to the members of the Federation during this bank holiday.
A national blitz tournament is organized by the Kinshasa League, chaired by Mrs Bernardine Esungi, known by everyone as "Mom". Garry, who stays in the same hotel at the same floor, meets the players in the VIP lounge. Quickly, he is greeted by the national players and managers who stop immediately their games, most of them wear a "Kasparov for Africa" T -shirt. A few words to them, and Garry is off to a national press conference.
Congo River Hotel, 10:00.
Guy Esungi opens the meeting by saying thank you to GK for his presence in Kinshasa and tells the media that the Congolese Federation intends to restructure its organisation to launch a huge campaign to popularize chess in Congo. He also adds that different authorities of the country will meet the delegation the next day to see how it makes progress.
Garry no longer discovers the African reality. He has been through it for the last fifteen days. So the tone is serious, he's almost sorry for seeing how sub-Saharan countries have been obviously neglected for years, and disgusted to see the time lost, also here in Kinshasa. "How a country, as big as Congo is, can't have a player 'ranked' while paying its membership fees every year? Because it is impossible for players to go as far as in Europe or even in North Africa to participate!", he says to the press.
We are actually not talking about Grandmasters, not even Masters, just about a recognized Elo ranking. " For this to happen, it is necessary that the competitions center of gravity changes, that registered tournaments are organized in the sub-regions, in areas where players can travel for cheap. "
Garry Kasparov then promises, until FIDE is renewed, that immediate action will be taken via the Kasparov Chess Foundation for making foreign ranked players come to play in Congo to give them an opportunity to get this ranking. "The North benefits from its proximity to Europe," he said. "… So we need specific measures which take into account this imbalance."
Congo, the last country of the African tour, is a French speaking country. This is also an opportunity for Garry to remind that all KCF books for schools are now translated in French, and Congo will become the first French speaking platform to implement it.
He finally reminds that he is here at the disposal of the Federation to meet any potential stakeholder able to support the development of chess, next Monday.
After a photo shoot with all those present, the Federation invites all its members to have lunch near the Bonobo Monkey Sanctuary.
1:10 p.m. "Make love not war" The Lola Ya Bonobo site, on the outskirts of Kinshasa, is home to Bonobo monkeys, mostly orphans whose parents have paid the price of poaching.
Monday, February 10
Guy Esungi, thanks to the incredible efficiency of the communication adviser Olive Kilhoa, had arranged for three work meetings. 8:30am. The Committee was received by His Excellency Mr. Banza Mukalayi, Minister of Youth and Sports, who immediately supported the Congo Federation for its development.
10:00 – The Director of Cabinet of the Minister of Primary and Secondary Education, Mr. Jacques Yuma, receives Garry Kasparov and the Congo and Gabon federations. A report is then prepared to send the complaints to the Minister.
Congo being constituted by provinces whose level of autonomy is important, the delegation went to visit the Governor of the city of Kinshasa, André Kimbuta, at his home. His Excellency Mr. Kimbuta, feeling ill, insisted to meet G. Kasparov but at his residence.
2.00pm. Home of the Governor of the City of Kinshasa.
Mr. Kimbuta is primarily a teacher in Mathematics, so he quickly endorsed the idea of introducing chess at school. G. Kasparov did not take long to convince him! The Governor said, under the applause of his visitors: "I am able to establish a decree for next September to introduce chess at school!"
The meeting ends around 3:30pm. This time, there has been a tangible outcome. Garry Kasparov can therefore leave Congo with the satisfaction that his role of "facilitator" has once again been successful.
What about this encounter with Africa on the evening of the last stage of the Tour? Garry has found true allies, whose aspiration for change is extreme. More than once the reception was beyond expectations; Has Africa become the continent of adoption for Garry Kasparov?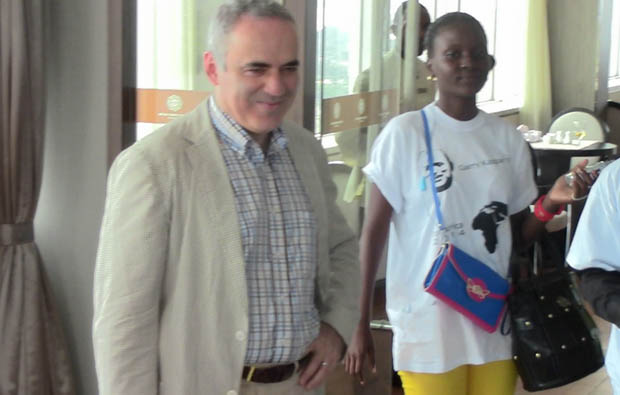 "This is not a question of voting, it is a wave that is ongoing! " he confided to Larbi Houari at the end of this tour.
This first tour is over indeed, but the wave continues. A small unexpected country in West Africa will soon get itself talked about: Gambia !